Day Two of Shaky Knees didn't look like much on paper, so we slept in a little late and missed Strand of Oaks (we keep missing them!). The day was a little bit cooler than the day before but decidedly more breezy although the sun in the cloudless sky was just as intense, and we made it to the festival in time to see some reggae/afro-pop jam band called
The Hip Abduction (Buford Highway Stage)
As squeamish as we are about western (white) musicians appropriating African and Afro-Caribbean musical forms, The Hip Abduction were not unpleasant to listen to, and what's not to like about dueling koras?
It was a nice start to the day, but we didn't waste much time after their set to get over to the big Peachtree stage and the free VIP beer for blues act
JJ Grey & Mofro (Peachtree Stage)
JJ Grey & Mofro have a reputation as an exciting live act, and while everybody loves the blues, beyond mere competence, I didn't hear anything particularly exceptional in GG Grey's interpretation of an indigenous African-American art form. Which reminds me, I've heard several criticisms of this and past Shaky Knees lineups as too male-dominated (I disagree) and not enough locals (true, there weren't a lot of locals, but I don't think I want to spend a three-day weekend at these prices to hear the same bands I can otherwise hear any night in Atlanta).
The criticism I do think is valid is that both the bands and the audience were overwhelmingly white, an anomaly for a city of Atlanta's ethnic composition, and a poor representation of today's music. In other words, for the most part, the stages and audience were whiter than a Klan rally.
Shaky Graves (Ponce De Leon Stage)
Poor Shaky Graves. You'd think a festival named "Shaky Knees" would treat Shaky Graves better, but after 10 minutes had passed after his start time without any appearance on stage, and the crowd had started a call-and-response chant of "Shaky" and "Graves," Alejandro Rose-Garcia finally came on stage and shouted that they were experiencing a power outage, and then said something else that nobody past the front row of the audience could hear. Those of us further back asked each other in puzzlement, "Did he say '10 more minutes'?" "Did he say 'cancelled'?" No one knew, so we waited there in the sun for another 10 minutes, and then the Austin troubadour came back on stage and led an unamplified sing-along of Dearly Departed, which was cool even if you couldn't hear him over the audience, and then he disappeared again.
We waited around a little while longer to see if the power problems would be resolved, then finally bagged it to go over to the Buford Highway stage and catch Sweden's
Baskery (Buford)
According to the official Shaky Knees bio for Baskery, "No matter where they go in the world, people tell the sisters that they've never heard or seen anything like it, that their sound is completely unique and that they perform with what seems to be an inexhaustible energy. That's Baskery's aim, to never stop surprising. They use traditional instruments in an unconventional way to create their very own genres: banjo punk, ADM (acoustic dance music) and killbilly."
It was a pretty cool set, mixing punk attitude with traditional bluegrass instrumentation in original pop-rock songs. We had never heard of Baskery before, and accidentally discovering new bands and new music is one of the fun things about music festivals. The Bondesson sisters pulled it off, making it fun to listen to and they left the audience smiling.
Shaky Graves (Ponce)
Retreating back to the VIP pavilion after the Baskery set, we passed the Ponce stage and to our surprise saw that the power was finally on and that Shaky Graves was finally performing.
What's more, we also learned that we had only missed one or two songs - he had just finally started - so we treated ourselves to an unexpectedly late Shaky Graves set.
Poor Shaky Graves. Things seemed to keep going wrong for him on stage, including amplifiers that wouldn't work when called upon and he even managed to bust up a guitar.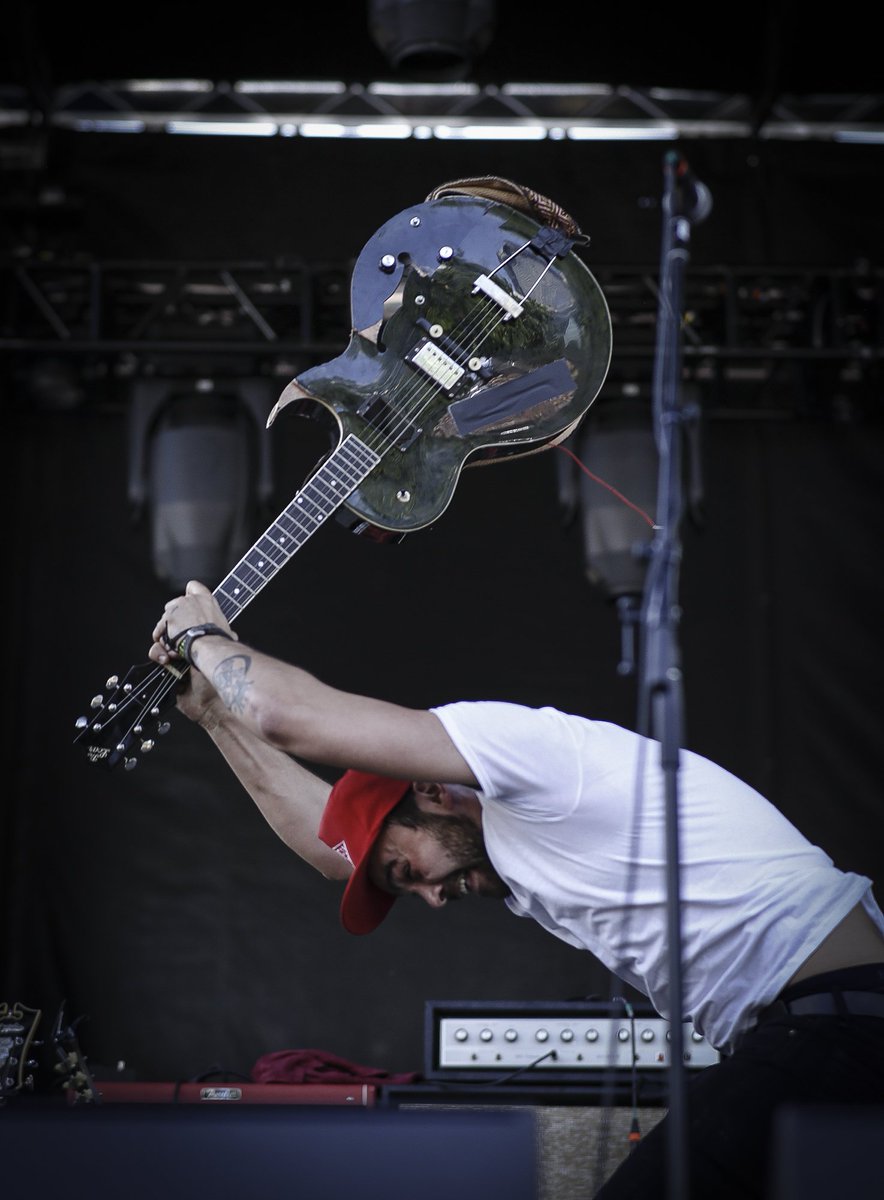 (photo found on Twitter)
It was Saturday, the 14th, but Shaky Graves was having a Friday the 13th set, although he pressed on in good spirit and good humor, and delivered a rousing and entertaining set for the loyal audience.
The end of the Shaky Graves set left us in a pretty good spot at the front of the Ponce stage for the rest of Day 2, but we'll get to that later, maybe tomorrow but more likely Friday. Meanwhile, now that we're halfway through Shaky Knees 2016, here's what a day-and-a-half of Shaky Knees will do to you: