The Japanese expression
jijuyō-zanmai
suggests the state of natural balance that we
experience when making effort without an intentional aim. It is like the flowering of trees in the spring, which do not intend to produce beautiful blossoms, or the trail of birds in the sky, which do not intend on suggesting graceful arcs. Passing clouds do not intend to cast their reflection on a pond. But while the actions of all sentient beings are volitional and deliberate, the results of our actions do not have to be intentional.
I bring this up because Atlanta singer-songwriter Connor Burnett, who performs under the name Pleasance House, plays atmospheric, ambient folk that he describes as "music created with no intention." Last night, he volitionally kicked off a great night of music with his opening set at The Earl.
Performing solo, and for his first time at The Earl, Pleasance House produced lovely sounds using just his guitar and his voice, weaving intricate melodies on the strings and singing, both with and without words. I, or anyone else, cannot know Connor's mind or speak to his intentions or lack thereof, but an artist can create a work of art just for the sake of creation, without intention of how it is to be received or perceived. You can hear his music for yourself on
his Bandcamp page
, but if you ever do get a chance to hear him perform live, you really should reward yourself and go listen.
Jordan Lee, who performs as Mutual Benefit, took the stage next and after playing his opening song, commented on how impressed he was by Pleasance House, and pondered aloud the possibilities of creating music without intention. And then, intentionally or not, Mutual Benefit proceeded to keep the spell started by Pleasance House going, playing a soothing and uplifting set of hypnotic acoustical ambience for nearly an hour.
The music was spell-binding, and getting lost in the flow of the tunes felt to these listeners like drifting down a river on an inner tube on a summer afternoon, although we're sure was not Mutual Benefit's intention.
Jordan noted that this was his third time playing at The Earl, and like many things in life, the third time seemed to be the charm. The audience, although few in number, were enraptured, and so quiet were they between songs, Jordan actually led a "scream-along" at one point just to break the spell (if I may be so bold as to assume his intention).
At various times, guitars, banjos, basses, and flutes were employed in creating the heavenly music.
Mutual Benefit's best known song,
Advanced Falconry
, was played about three-fourths of the way into the set.
During the set, several Pokemons spawned on stage, apparently attracted, like us, by Mutual Benefit's dreamy music.
A evening of music by Pleasance House and Mutual Benefit would have been more than satisfying in and of itself, but we still had headliner Quilt on tap. Mutual Benefit and Quilt are on a co-headliner tour, which just started Friday night in Athens, and while we would have headed out just to see Mutual Benefit, or for that matter Pleasance House now that we've been introduced, Quilt is one of those can't-miss bands and the twin billing of the two bands is a must-see show.
Quilt played several songs off of
Plaza
, opening, as I recall, with
Passerby,
followed by
Hissing My Plea
. I didn't snag a set list and didn't even see one on stage, so I'm not sure of the exact sequence of songs, but during their set they played several other of their more-popular songs, including
Eliot Street
,
Roller
and
Arctic Shark
, but what stood out to me were the several long instrumental passages of psychedelic guitar exploration. I wouldn't call Quilt a "jam band" at this point by any stretch of the imagination, but with their extended grooves they easily eschewed any "pop band" categorization. Listen to album-closer
Own Ways
from
Plaza
(which also closed last night's set) for a taste of the Haight-Ashbury-influenced psych rock that seems on its way to becoming a larger part of Quilt's repertoire, or better yet, their 2014
Quilt in Marfa
EP.
The Earl did an exceptional job with the sound, and the mix was perfectly balanced so that one could hear everything clearly, particularly the fine harmonies between singers Anna Rochinski and Shane Butler.
Speaking of The Earl, Quilt posted the picture below on their Facebook of a ghost, apparently, working The Earl's merch table.
Quilt apparently have a thing about covering themselves with sheets (but not in a Klanish way), as evidenced by the cover of the Held In Splendor album and their video for Arctic Shark.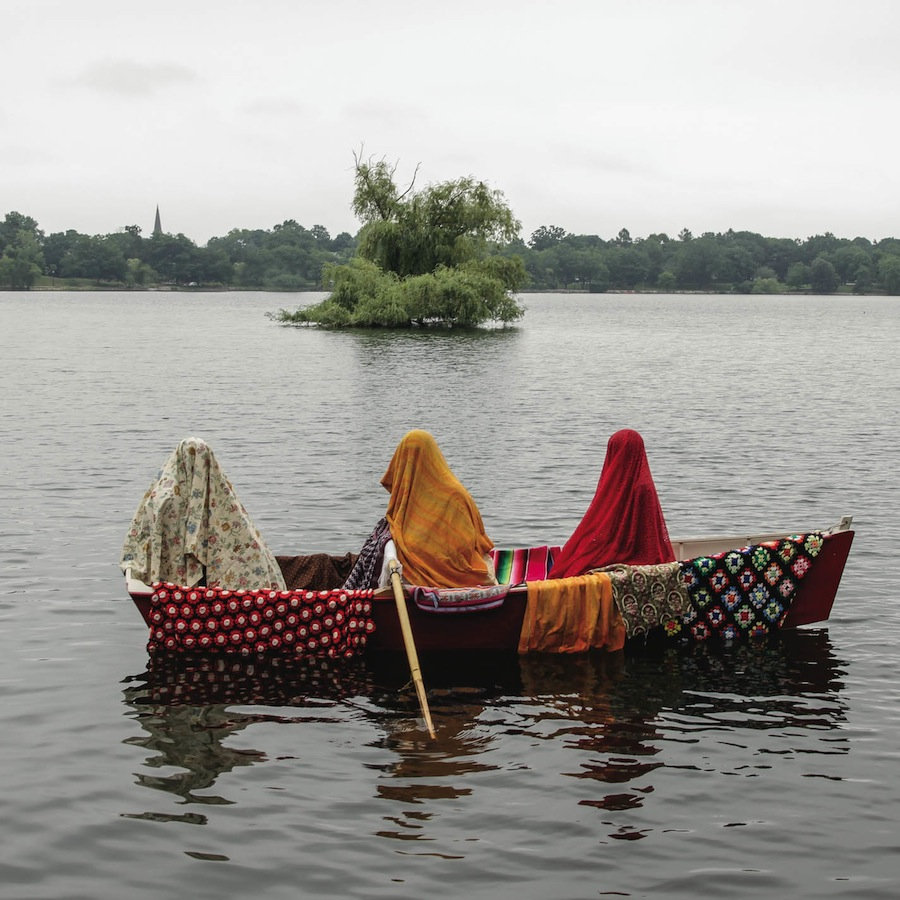 It was, intentionally or not, a delightful evening of terrific music by three fine bands. We're now past the half-way mark in our five-day stretch of shows (Rocktober in September, or Septober Energy), having completed Car Seat Headrest (Thursday) and Angel Olsen (Friday) at Terminal West, and with Joanna Newsom tonight at Buckhead Theater and then The Album Leaf back at Terminal West on Monday.